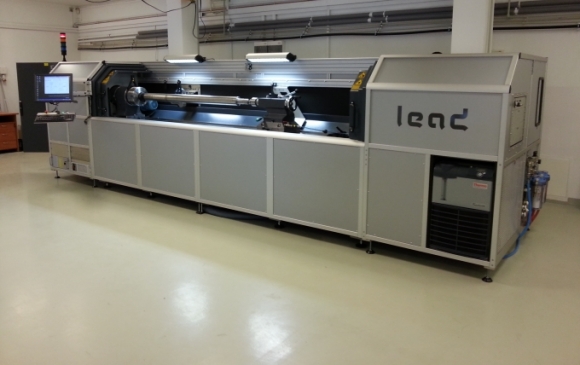 Uflex, one of India's leading flexible packagers using both gravure and flexo invested in a direct laser engraving system from Lead Laser (Netherlands) which in addition to being the first for Uflex, the acquisition of the technology was also a first of its kind in India.
Joint CEO Mr. P K Agarwal of Uflex said, "We have been looking at the DLE technology for a couple of years now and for all our wide web customers in house as well as overseas, the need to have solvent free Plates and Sleeves has become essential. After careful evaluation of all manufacturers, we found that the Hybrid technology being offered by Lead Lasers was ideal for us and for the Indian market. We are sure that the adoption of this technology will bring us to a position of market leadership in the flexo pre-press space as well in the very near future. "
Founded in 2000, Lead Laser, the Dutch innovator in direct laser technology has built-up a solid reputation built upon their broad experience in CO2-and YAG Fiber lasers which has seen them file several application patents in their remit to deliver a robust, easy to operate and maintain DLE machine which engraves at high speeds with high quality at a low cost of ownership, something which is key in today's printing and flexible packaging markets.
Mr Arthur from Lead Laser said, "We are delighted with our relationship with VINSAK who gave us the opportunity of being able to install the first system in India which is a focus market for us in the near future. We continue to develop the DLE technology with a strong focus on the flexo market and believe very strongly that in the coming years Elastomers as plates and sleeves will offer the pre-press that flexo needs to get out of the dependence on Photosensitive materials which are neither eco-friendly nor easy to make or use."
In addition to the recent investment, Uflex is in the process of setting up a highly automated robotic plant for gravure cylinder production based on technology from Think Laboratory in Japan. Think, which according to Uflex, permits production to commence with a single operator.
Given Uflex has current gravure cylinder manufacturing capacity in excess of 35,000 per year, their continued investment in infrastructure and breaking ground in new markets and territories surely bodes well for their continued position as a global player in the flexible packaging markets.