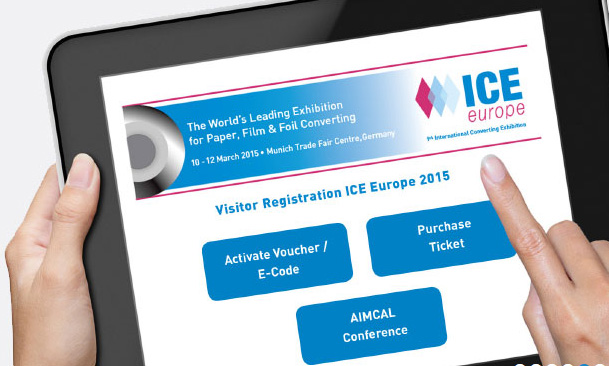 Some 100 visitors recently visited the BOBST Stand at the ICE Europe exhibition to meet with the Web-fed sales team and discuss the latest additions to the product range at the world's leading exhibition for the converting industry, held in Munich, Germany.
The international show is the place to be when marketing new machinery, technologies and manufacturing solutions. It is where the industry decision makers come to look for know-how to base their future-oriented strategies on.
Of particular focus on the stand were BOBST process solutions for Coating and Vacuum metallizing product ranges, along with the other web-fed product lines of CI Flexo printing, Gravure printing and Laminating.
In the area of Coating, visitors were able to discuss BOBST complete range of technologies which allows for the design of tailor made solutions adapted to many different production processes. End products include flexible packaging, food foil, labelstock, tapes, pharmaceutical substrates, barrier applications, protective films and various industrial substrates. In Vacuum metalizing the Hawkeye pinhole detector was presented along with the AlOx process which produces clear film predominately for food packaging.
Information was also available on the range of laminators, gravure presses and flexo printing presses. In lamination, BOBST multi-technology laminators and solventless laminators produce superior quality laminated structures. In printing, the BOBST range of gravure presses is the most comprehensive in the industry and as for flexo printing the main focus was on the F&K 20SIX.
"For BOBST this was the most successful edition of ICE Europe to date," commented Eric Pavone, BOBST Business Unit Web-fed Business Director; he continued "the sales team were able to meet with both new and existing customers and discuss finalisation of projects as well as embark on discussions about new projects. BOBST is well recognised in the market place and this was evident at ICE Europe by the number of existing customers to the stand as well as potential customers who had heard about BOBST's excellent reputation in the flexible packaging industry and wanted to discover for themselves more about our new technologies."
The 9th ICE Europe from 10-12 March 2015 attracted a total of 7,040 visitors from 71 countries and 439 exhibitors from 26 countries to the Munich Trade Fair Centre – with visitor increase up by 7% and exhibitor as well as exhibition space increase up by 10% compared to the previous event in 2013.
The prospects for the converting industry have been continually positive for years. Flexible packaging solutions and high-class product converting are sought after worldwide. At the same time, the innovational power of the industry for the converting and manufacture of new materials and in energy-efficient production is very high. The enormous business potential of the industrial sector is to further develop this competence in order to serve and anticipate the clients' demands and to expand international market networks.
The next ICE Europe will take place from 21-23 March 2017 at the Munich Trade Fair Centre.