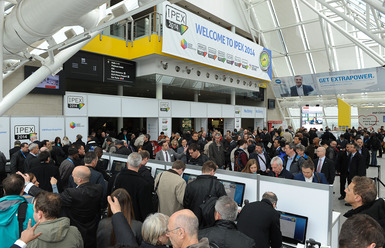 The new-look Ipex has been hailed a success by organiser Informa and exhibitors alike, with the latter group achieving significant sales at the six-day London event.
"We're really pleased and the anecdotal feedback is that visitors have been delighted by what they saw. And if you take into account what the show has been through in the past couple of years, then it's even more satisfying that it all came together," said event director Trevor Crawford.
Almost 23,000 visitors attended Ipex across its six days.
While this is substantially down on the 50,000 who attended Ipex 2010, the 2014 geographic split of 54% UK visitors and 46% international was broadly inline with 2010's numbers.
"The reality is that we've gone down from a 50,000sqm net footprint to 15,000sqm, so naturally you will have a lower footfall. This is why I think you can't compare this Ipex to previous shows, and that's why we're treating it as a new launch, and with that in mind we're really happy with the numbers," said Crawford.
"Visitor engagement with the content programme has been one of my personal highlights," he added.
From the summer of 2012, when HP and Heidelberg withdrew from the event, the show was blighted by a 12-month-long domino effect of exhibitor withdrawals. However, in the run-up to the March event, as confidence returned to the sector, so did a number of manufacturers with the show ending up with around 400 exhibitors, compared with the 1,000 that exhibited at Ipex 2010.
Crawford said that senior representatives of many of the vendors that withdrew from this year's show had visited Excel.
"I hope that they liked what they saw in terms of the new format and the content, and I'm hopeful that we will continue that positive dialogue with them over the next two or three years," he said.
While it was evident that many exhibitors had scaled back their stand footprints inline with their paid deposits, according to Crawford the fact that some of the major exhibitors had taken smaller stands was a positive reflection of the changing attitudes to exhibitions.
"It's not about size; exhibitors have realised that you don't have take a football pitched-sized, double-decker gin palace to come out with ROI and I suspect that a lot of the larger companies will look back at this year's show and think: we did it on a smaller budget and achieved everything we set out to do."
Crawford's comments were mirrored by many of the exhibitors at last week's show, who praised the ROI of the event.
According to Intec head of PR and marketing Terri Winstanley, the show was a success in terms of meeting new and prospective international partners and also the digital printer manufacturer securing significant sales volumes, including one six-figure deal.
"The show has been amazing for us – it's totally exceeded our expectations," she added.
This was echoed by Duplo UK managing director Peter Jolly, whose firm secured more than £1m worth of business in the first four days of the show alone, which included a £450,000 deal with Precision Printing on Thursday.
"From a firm that six months ago wasn't going to be at Ipex, the show's been a great story for us," he said.
Mark Hinder, market development manager of the largest exhibitor Konica Minolta said that show had reflected the growing confidence in the sector and that he was particularly impressed by the number of international visitors.
"Our commitment has been unwavering and we have absolutely done the right thing to stay with the show," he added.
Konica said that it was confident of securing €3.5m (£2.9m) of new business as a direct result of Ipex
Ipex 2018 is scheduled to take place from 19 to 24 March 2018 at the Excel, London.
Ipex, is promoted as being the largest UK printing, media and publishing event in 2014, which will provide visitors with the "tools, knowledge and inspiration to turn today's challenges into tomorrow's opportunities.", and covers the complete digital print production cycle, from concept to output.