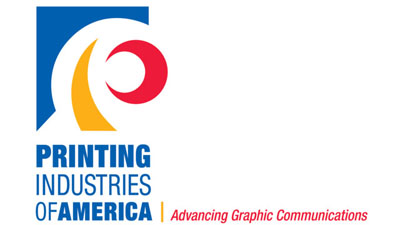 Dr. Mark Bohan is vice president, technology and research with Printing Industries of America in Pennsylvania, U.S.A. and is responsible for all their technical research, and he  oversees the Supplier Advisory Committee and Research Committee for Printing Industries of America.
Dr. Bohan is active in an extensive range of printing, paper, and coating research looking at the latest trends in the industry. He has also been involved in many projects evaluating new technologies, their implementation, and in the application of functional materials using different processes. Many of these have been published in the press and also in Printing Industries Press publications.
Level of Technology Innovation in Print Industry Remains High
by James A. Workman and Dr. Mark Bohan Printing Industries of America
Printing companies that fail to embrace technical advances eventually become uncompetitive and wither. Managers must routinely scan the industry for technology developments that can benefit their people and processes, and that may lead them to new market opportunities. As the industry changes to stay relevant in our new multichannel world, there's no shortage of technology innovations to help printers keep pace.
One of the best ways to stay abreast of these developments is to review the annual recipients of the InterTech™ Technology Awards. The awards were started in 1978 by the Graphic Arts Technical Foundation, now Printing Industries of America, to recognize the role of innovative technology in helping companies reduce costs, improve performance, and pursue new markets. Since that time, almost 300 technologies have been judged to have met the award criteria of being truly innovative, tested, and likely to have a major impact on the graphic communications industry. Recipients are chosen by an independent panel of judges that deliberate over detailed and extensive nominations.
The requirements to nominate a technology ensure that judges receive explanations as to why the technology is innovative, significant, and financially advantageous for users. Testimonial letters from users and other supporting materials are likewise reviewed. For 2013 the judges deemed eleven of the technologies worthy of an InterTech Technology Award. The awards represented important advances
in the areas of digital presses, large-format offset, flexographic plate imaging, printed product enhancements, and a substrate for printed elec-tronics. The judges further recognized software solutions to facilitate color management, workflow for variable-data printing, and press training. The following eleven technologies were selected to receive a 2013 Inter-Tech™ Technology Award (in alphabetical order by company):
Pressero with eDocBuilder (Aleyant Systems). The benefits of selling print via the Web haven't been ignored by printers—a significant portion of companies now obtain some portion of their jobs online. One limitation, however, has been handling variable data within these systems. Pressero is Cloud-based Web-to-print software that was recognized with an InterTech Technology Award for its full range of functionality, from order management to workflow integration, and especially for DocBuilder, a powerful variable-data publishing system. eDocBuilder impressed the judges by empowering users to personalize, proof, and approve VDP documents directly from a Web browser while the open platform of the software allows easy integration into existing workflows.
Aproove (Aproove SA). Another aspect of ingratiating customers to their print suppliers and speeding turnaround is online collaboration, proofing, and approval. Aproove provides this via Macs, PCs, tablets, and smartphones with an open architecture that easily integrates into existing workflow systems. The system gives anyone involved in the creative process real-time interactive markup and communication across multiple sites from initial concept to final production. The judges were impressed with the technology's ease of use and its scalability.
POWERCOAT (Arjowiggins Creative Papers). Printed electronics are poised to be an expanding segment of the industry as manufacturers seek lower-cost ways to produce RFID tags, OLED screens, and other items. POWERCOAT is the first technology designed for printed electronics to receive an InterTech Technology Award. The substrate is made from 100% cellulose fibers with no plastic, is recyclable, and FSC-certified. The judges were impressed with the substrate's ultra smooth coating that both reduces the consumption of silver-laden conductive ink and makes possible exceptional print resolution. The substrate also has high thermal and dimensional stability, crucial for this market segment.
ORIS Lynx (CGS Publishing Technologies International). Software providers are increasingly offering Software-as-a-Service (SaaS) now that Cloud-based delivery is practical. SaaS solutions reduce IT demands on printers and make a wider range of software affordable for small- and medium-sized companies. ORIS Lynx is an innovative example. Using an easy-to-use Web-based client application, and a secure server, it generates reliable device link profiles or ICC profiles to control the quality and consistency of output on any print device. The judges were impressed by the SaaS approach, giving companies a simple way to produce accurate color and satisfy specific color requirements.
KODAK FLEXCEL Direct System (Eastman Kodak Company). The tipping point for flexographic printers to move in great numbers to direct engraving of plates and ITR (sleeves) is considerably nearer due to KODAK FLEXCEL Direct System. It eliminates key drawbacks that have kept flexo printers away from an all-digital workflow. Engraving speeds are 50% faster than existing systems due to Kodak's new multichannel laser diode array and sleeve and plate media characteristics. The simple, two-step prepress process gets sleeves and plates to press more quickly. At the same time, the imaging process results in a sharper and more solid dot structure, so print quality is improved and plates and ITRs hold up during longer runs.
GMG OpenColor (GMG Americas). GMG OpenColor brings a sophisticated new technology to printer/converters serving consumer product companies who are sensitive to even minor inconsistencies in color matching. It increases the color accuracy of proofs by simulating the overprint behavior of different printing processes and process-specific variables. The judges were impressed by GMG's research into the spectral behavior of inks resulting in sophisticated modeling algorithms that predict overprints, reducing the need for press fingerprinting, and shortening the time to accomplish color matching and profiling.
Heidelberg Speedmaster XL VLF Press with Twin-Gripper Delivery and Remote Fan-Out Control (Heidelberg USA). Large-format lithographic presses are printing everyday point-of-purchase displays, posters, and packaging. The efficiency challenges in handling sheets over five feet wide are met head on by the Heidelberg Speedmaster XL VLF Press with Twin-Gripper Delivery and Remote Fan-Out Control. The twin-gripper technology secures lead and tail edges of the sheet in the delivery, ensuring smooth pile formation; eliminates marking; and significantly reduces paper waste from slowdown corridors. Remote fan-out control adjusts the plate tail clamps dynamically from the console to compensate for fan-out, avoiding wasted time in stopping the press. The judges were impressed by how these technologies take large-format presses to a new level of efficiency and productivity.
HP Indigo 10000 Digital Press (Hewlett Packard). The utilization of variable data on larger B2 sheets and for short-run static work is blurring the lines as to which press format to use. Technologies such as the HP Indigo 10000 Digital Press, which prints up to seven colors on a 29×20-inch sheet are shifting the boundaries. Producng a B2-format size means the press easily integrates into offset pressrooms (and postpress operations) and significantly increases the print volumes that are cost-effective on a digital sheetfed press. It has the same print quality and substrate flexibility common to other Indigo presses. The judges were impressed with the technological advancements necessary to rapidly produce digital prints of this size.
JETvarnish 3D (MGI Digital Graphic Technology). Marketers and printers have always been drawn to new technologies that create attention-getting visual effects. The InterTech judges singled out two such technologies this year. JETvarnish 3D is an inkjet digital system offering traditional spot UV coating and new 3D raised effects to print projects—with coating thicknesses up to 100 microns—that differentiate the printed material. In a B2 format it can produce quantities ranging from one to hundreds of thousands without requiring plates, screens, or extensive makeready. The judges were impressed with registration control and the multiple curing options available to create different textured visual effects not traditionally available via inkjet.
Scodix Metallic™ with Scodix SENSE™ (Scodix, Inc.) Honored for its eye-catching effects was Scodix Metallic. The process produces metallic effects from digital printing in a one-pass process without expensive materials or setup. The prints are protected and enhanced with Scodix SENSE that will selectively coat using inkjet with great register control producing different glosses and textures. The judges marveled at the technology potential for high-end packaging and marketing applications.
DLMS: Distributed Learning Management System (Sinapse Print Simulators). As a sizeable number of press operators opt for retirement along with others in the baby boom generation, printing companies will struggle to adequately and quickly train new press personnel. DLMS (Distributed Learning Management System) from Sinapse Print improves the ability to teach large numbers of trainees the fundamentals and finer points of press operation. The Cloud-based DLMS works with Sinapse's line of press training simulators to let trainers manage and evaluate trainees onsite and across sites. It provides automatic analysis and reporting of training exercises, along with letting trainers set problems and analyze results in many languages without translation. The judges recognized DLMS for its sophistication and ability to make press simulators a potent teaching tool.
Summary
As is apparent, suppliers are working hard to help printers automate their workflows, speed throughput, improve quality, and enter new markets. We expect more examples of this in 2014.
More in-depth information on each of the recipient technologies can be obtained at
. Manufacturers and suppliers interested in nominating an innovative technology for recognition are urged to submit entries for the 2014 InterTech Technology Awards program. For details on how to apply, go to www.printing.org/InterTech or contact Jim Workman at intertech@printing.org