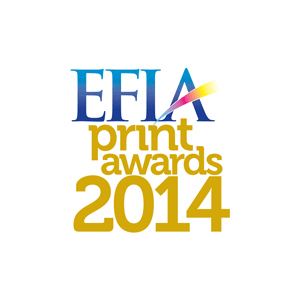 The Board of EFIA has announced the roll call of judges for the prestigious 2014 Print Awards – Europe's largest and most widely recognised Print Recognition programme is in full swing with the judging event planned for the end of January. The impressive list of judges for this year includes print experts from retail brand owners as well as a cross section of representatives from the printing sector.
Andy Wilson – Print Manager in Procurement, Asda
Andy has been involved in the packaging industry for the last 20 years. He has extensive knowledge of colour theory in relation to print on packaging and is a strong advocate of good manufacturing practice, press profiling and printing by numbers. He's currently working for ASDA to improve colour consistency across all pack formats.
Ian Schofield, Own Label Manager, Iceland Foods
Ian has over 30 years of experience in Packaging involving development of best practice launch methods from product development stage to arrival in store and driving innovation. He began with the Co-Op in Manchester, joined Iceland in the 1980s and moved through a number of roles ending up as Sales & Marketing Director, Sun Branding Solutions in 2004. He has recently rejoined Iceland
after the company returned to its private roots under its original owner Malcolm Walker. Ian is an active member of the Institute of Packaging and Institute of Marketing.
Matthew Daniels – Global Packaging Capability Leader, Unilever
A well recognised figure from our industry, Matt held various Pre-press and Design roles with Bowater and Rexam Corrugated until 2003 when he became Graphic Design Manager with SCA Packaging developing HD Flexo Printing capability and converting traditional Gravure Pre-print designs into HD Flexo.
In June 2003, Matt joined the global giant Unilever as Packaging Artwork Manager for Spreads & Cooking Products Category, Europe in Rotterdam and from there in 2006 Matt's role evolved into a Unilever One position for both Foods & HPC as Best Practice Manager for Artwork. The focus for his next three years was to reduce complexity and standardise the role and responsibilities of packaging development teams across Europe. Today, Matt works from the UK as Global Packaging Capability Leader for Printing & Decoration.
Paul Willer – Product Specialist, Bobst
Paul Willer has 27 years of experience within the flexo industry as a Machine Operator, Shift, Production, Pre-Production and Process Improvement Management. Having joined Bobst Group in 1996, he became a Product Specialist on the SPO and Flexo machines and developed and introduced the Bobst SMARTcare product, allowing for further improvements to his portfolio to achieve customer satisfaction. Paul's attention to detail and broad ranging experience in the flexo industry make him a great candidate for the 2014 Awards judging.
Simon Hamer – Managing Director, DS Smith Retail and Consumer Print
Simon has over 30 years' experience in the flexo industry as well as experience in screen, litho and gravure. Simon is currently Managing Director of a cluster of businesses that incorporate the latest pre-print flexo and offset litho technologies supplying folding cartons, microflute cartons and high graphic corrugated packaging.
Simon is delighted to return as a judge as he has performed the duties at both EFTA and Cyrel competitions in the past and is looking forward to contributing to the EFIA judging panel.
Nicki Moran – Sales Director for Metsa Board UK & Ireland
Nicki has over 20 years' experience in the paper industry with the past 10 years focused on the corrugated packaging market. Nicki is also the current chair of the Corrugated Case Materials Section of the Paper and Board Association and has been Secretary for the Associates in Print and Paper Technology (APPT) for over 7 years. She is also Liveryman for the Worshipful Company of Stationers and Newspaper Makers and is on the Stationers Committee for promoting print into schools.
Nicki has also had experience of judging for the Procarton Starpack awards for schools and colleges for 5 years for Starpack.
David Galton, Chairman of EFIA commented: "I'm delighted to see the quality of the judging panel we have this year. Every year we strive to bring in new experience and opinion into the process and this year, to see such luminaries from our industry offering their time and expertise to drive our industry forward, is exciting."
2014 Print Awards Gala Dinner
The 2014 awards gala dinner is taking place at the Reebok Stadium, Bolton (just off junction 6 of the M61) on the 20th March 2014. The Pre Dinner Drinks Reception will start at 6.30pm with a call to dinner at 7.30pm.
The Mission of EFIA is to communicate and celebrate the advancement of the Flexographic process and to collectively add value through training, education and knowledge. Founded in 1972 by a group of printers to act as the unified voice of the flexo printing industry, EFIA has established an active programme of training, seminars, conferences and exhibitions to further the needs of its members.
Today the EFIA board drives the day to day activities for members from across Europe whether they are printers, designers, repro houses, platemakers, machinery suppliers, ink manufacturers or technology companies.
More info:
www.efia.uk.com