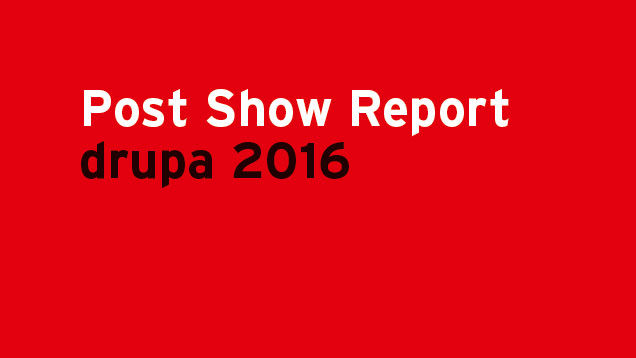 Drupa 2016 exhibitors seem to have summed up the show in two words: "exceeded expectations".
While many launched new technology to great fanfare, just as importantly the majority seem to have smashed through their show sales targets.
While overall visitors numbers will be down on 2012, manufacturers and suppliers were pleased with the quality of the 260,000 unique visitors that are predicted to have attended by the end of the final day, today. 76% of visitors were international, coming from 188 countries.
Heidelberg board member for equipment Stephan Plenz said: "Heidelberg recorded a high demand of over 1,000 orders over the whole value-added chain."
He added that its Primefire 106 B1 industrial inkjet press had received a very positive reaction.
Across the whole show inkjet once again created a massive buzz, but arguably it was corrugated packaging that emerged as a key trend, with a swathe of new inkjet machines targeted at the sector.
HP worldwide marketing leader for digital graphics solutions Francois Martin said many people were already calling the show the 'corrugated Drupa'.
He added HP experienced its best attendance at any Drupa ever. "Sales surpassed 2012 results by 20% and well exceeded our ambitious 2016 goal by 25% overall."
Landa chairman Benny Landa though believed drupa 2016 would be remembered as "the inflection point in the industry's transition from mechanical printing to digital."
Digital enhancement press manufacturer Scodix sold more than 100 machines. Chief executive Roy Porat reported an experience shared by many other exhibitors: "We reached our target on the third day and since then we've been overwhelmed."
The atmosphere at drupa 2016, the world's biggest and most important trade fair for print and crossmedia solutions, can hardly be topped: the investment climate is extremely good and has far exceeded all expectations. As the 11-day trade fair drew to a close the 1,837 exhibitors from 54 countries unanimously reported excellent business deals, extremely promising contacts and a positive spirit for the global print industry. The re-positioning of drupa and its focus on future themes with strong growth potential – such as 3D printing, functional printing or packaging printing – proves to be a real asset. Be it publication, commercial, packaging or industrial printing – printing technology offers matching solutions for all of these applications while opening up new lines of business and business models at the same time.