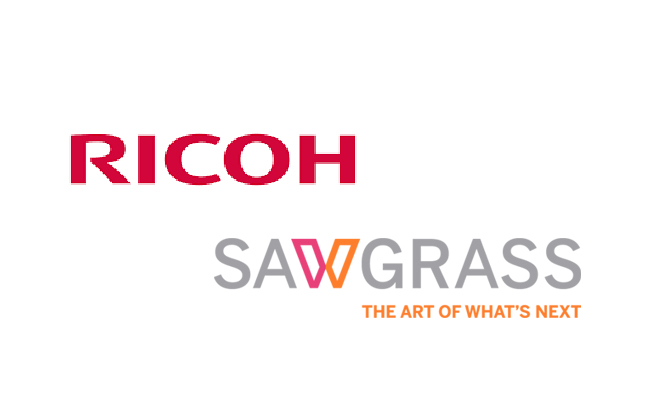 US ink manufacturer Sawgrass Technologies has expanded its partnership with Ricoh to continue its five-year relationship with the manufacturer for desktop dye-sub systems.
Sawgrass Technologies are highly regarded as High performance sublimation and pigment inks specialists for personalization, mass-customization and digital textile printing. leading the digital ink industry, Sawgrass hold more than 160 patents to-date and are based and headquartered in Charleston, South Carolina, with additional offices in Sheffield, England.
With this partnership widening and extension, confirmed in early May Sawgrass has said that it remains the only partner that Ricoh is working with in order to provide a leading range of desktop printers that are specifically for sublimation.
Sawgrass president Darcy Mauro said: "By matching the industry's highest quality inks with superior Ricoh printhead technology, Sawgrass has been able to supply the widest colour gamut in the industry while delivering the best substrate performance possible, all within the limits of dye-sublimation."
International marketing manager Andrea Evans added: "This partnership brings together the printhead expertise of Ricoh and the ink expertise of Sawgrass.
"Ricoh are committing to us to develop our next generation of desktop printers.
"We've got an A4 and an A3 printer – they are small and sit on top of a desk like a normal printer, but from this you can create coasters, mugs, mouse mats or t-shirts in that size. You can print about 1,500 mugs off one set of inks with the A4 printer."
Sawgrass distributes its products through around 160 dealers in 100 countries globally, with its UK distributors including Novachrome, TheMagicTouch and XPres.
Evans said its customers range from one-man bands to companies that have an online business and produce personalised mugs for other organisations.
Many UK football fans will be aware of the Ricoh Arena in Coventry, home of Coventry City FC since 2005 but the Ricoh Company Ltd is a Japanese multinational imaging and electronics company and global leader in business/office printing machines.
With revenues of some $110m per year and just shy of 100,000 employees Ricoh has maintained its leadership position for the seventh year running in the Managed Print Services (MPS) market, according to a report from analyst firm Quocirca.
In its Managed Print Services Landscape 2018 report, Quocirca notes that "Ricoh remains in the MPS leadership category, having effectively evolved its proposition to meet the broader digital transformation needs of its clients."