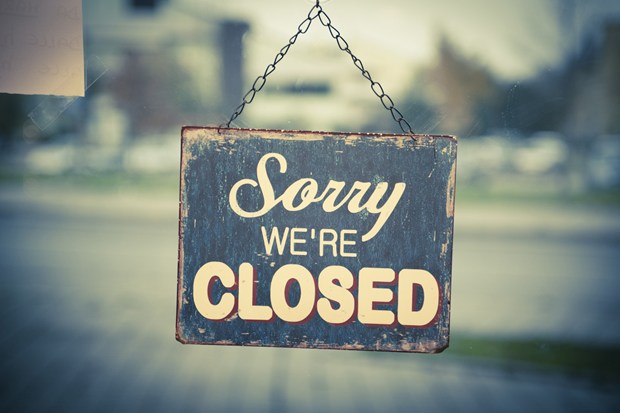 Despite the end of the recession, increased competition, reduced margins, and the ongoing shift from traditional publication print to digital, the number of companies going out of business in the print and design industries remains at an alarmingly high rate and the rate of company liquidations is not expected to slow anytime soon if such pressures continue.
Whilst the hangover (extended lag) from one of the UK's worst economic downturns in living memory is continuing into yet another quarter what is of considerable interest is the heavy failure rate, compared to other markets, of designers, publishers and printers who have gone pop.
ICSM Credit Management, the national and international credit reports provider offering legal advice and debt recovery services has revealed some 35 companies had liquidators appointed in May alone with the same number of businesses organizing into Creditors' Voluntary Liquidation Meetings.
Known for its short-runs of posters and brochures for theatres and the church, the company has now been forced to have a Creditors Voluntary Liquidation Meeting, according to the UK Official Public Record, The Gazette.
According to Print Monthly, the latest Print, Packaging and Creative firms going bust and noted in the UK Official Public Record, The Gazette are as follows
Administrators Appointed
Advent Colour LTD
Creative Digital Solutions LTD
Digital Distribution Networks LTD
Oaktree Packaging Company LTD
Pixel by Pixel LTD
Quorn House Media LTD
Service Point UK LTD
Trent Design LTD
Woodleys Digital LLP
Liquidators Appointed
Absolute Publications LTD
AG Castillo Media LTD
Ample Solutions LTD
Baron Design & Build LTD
Beacon Metal Finishers LTD
Bedrock Labels LTD
Blue Active Publishing LTD
Carbon Marketing LTD
Chris Norton Design & Publishing LTD
Contract Publishing (Huddersfield) LTD
Designs On The Edge LTD
Distinct Design & Build LTD
EazyTiger Digital LTD
Garnett Papers UK LTD
Goldcrown Associates LTD
Grenadier Publishing LTD
Hutchinson Design International LTD
Inscape Design Services LTD
JCC Design LTD
Local Digital Support LTD
Mercia Marketing LTD
Pack & Pallet LTD
Packaging Solutions (Leicester) LTD
Pinnacle Publishing LTD
Print Asia LTD
Prodigy Design Company LTD
Raw Publications LTD
Reveleco Design & Build LTD
Rollup Media LTD
SDB Digital LTD
Shelby Packaging LTD
The Albion BMX Magazine LTD
The Design Monkey LTD
Waterbridge Designs LTD
XMedia Marketing LTD
Creditors Voluntary Liquidation Meetings S 98
24-7 Print LTD
Assaye Packaging LTD
Associated Finishers LTD
Beau Maison Designs LTD
Beauty Planet Design LTD
C & MB Publishing LTD
Caxton Publishing Group LTD
Chris Norton Design & Publishing LTD
Cowdalls Printers LTD
D K Advertising (UK) LTD
Distinct Design & Build LTD
H S Works LTD
Homestyle Design Studio LTD
Inscape Design Services LTD
Mercia Marketing LTD
New Horizons Advertising Agency LTD
Nicholas Oakwell LTD
No Design LTD
No Group LTD
No Production LTD
Ocean Designs LTD
P & H Marketing LTD
Presentation and Design Services LTD
Print Asia LTD
Silverbridge Papers LTD
Sky-Hook Screen and Digital Print LTD
The Bottom Line Marketing and Communications LTD
The Design Monkey LTD
The Print Centre (1st 4 Print.com) LTD
Trade House Finishers LTD
VTR Media Services LTD
World Design & Trade Co LTD
World Design & Trade Retail LTD
XMedia Marketing LTD
Petitions To Wind Up
Q Media LTD
Structart Design LTD
Studio 31 Media LTD
Winding Up Orders
Kind of Digital LTD
Rich Pix Media LTD
Members Voluntary Liquidations
A.R.T. Advertising and Design LTD
Consultract Design Partnership LTD
Jaguar Marketing LTD
Postair Media Sales LTD
SCA Packaging Britain LTD
Specialty Chemicals Packaging LTD