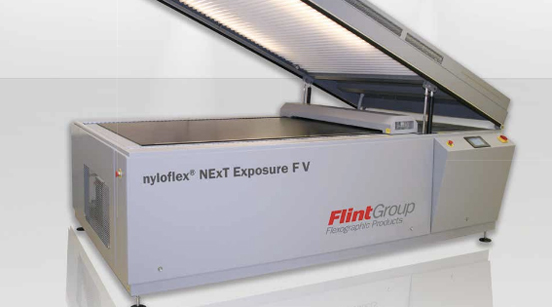 As part of Sinwa's continued growth the company recently invested in Nyloflex NExT Exposure FV from Flint Group which is a high-intensity UV-A LED exposure wide web format photopolymer plate machine capable of plate sizes up to a maximum size of 1320 x 2032 mm (i.e. 52.0″ x 80.0″)
The nyloflex® NExT exposure technology utilises a high intensity UV-A LED light source to conduct rapid crosslinking of the photopolymer surface. The high UV-A output results in a virtual 1:1 image reproduction from the digital file to the finished plate and the plate maker is reputed to increase ink transfer efficiency by up to 25%. In flexible packaging, printing plates exposed with this technology allow excellent ink transfer, particularly in solids, due to the option to precisely reproduce surface screening structures.
Furthermore, in corrugated printing, fluting will considerably be reduced and with this configuration, Sinwa, the innovation leader in the Chinese flexo printing market makes further improvements in its efficiency to offer added value to customers.
"We are very proud that such an innovative company like Sinwa has decided to go with our system," says QiHong-Magenta Zheng, General Manager Flint Group Flexographic Products in China. And Michael Lin, Managing Director Sinwa, adds: "We can completely rely on the nyloflex® NExT exposure technology, which has been proven to be the easiest and most consistent way for the flat top dot application; meanwhile it enhances our competence and further differentiates us."
Privately owned by Goldman Sachs Merchant Banking Division in partnership with Koch Equity Development LLC, a subsidiary of Koch Industries Inc Flint Group is one of the largest suppliers to the printing and packaging industry worldwide, was created by the union of XSYS Print Solutions and Flint Ink Corporation in late 2005. XSYS was the result of a 2004 union between ANI and BASF Printing Systems, both long-standing printing industry providers with locations around the world. Flint Ink was founded in the US in 1920 and grew consistently over time to become an internationally renowned supplier of printing inks and colourants. The 2007 acquisition of Day International completed the product line, substantially increasing Flint Group's global position in the non-ink pressroom consumables market. 2013 revenues of Flint Group were € 2.2 billion (US$ 2.9 billion) and they have approximately 6,600 employees worldwide.
Sinoflexo Reproduction is the subsidiary of Taiwan Sinwa Printech Group, which proclaims to be a leading supplier for cable marking rolls serving customers in Asia and in the year 2000 they started their flexo plate making business in Shanghai with the aim to develop the flexo industry in China, To date they have 5 domestic branches: Shanghai , Dongguan, Qingdao , Wuhan and Tianjin, all with plate making facilities to provide local supply including a high power DLE (direct laser engraving) system from Lead Lasers (of Holland) which was installed in 2013 and have some 120 employees.