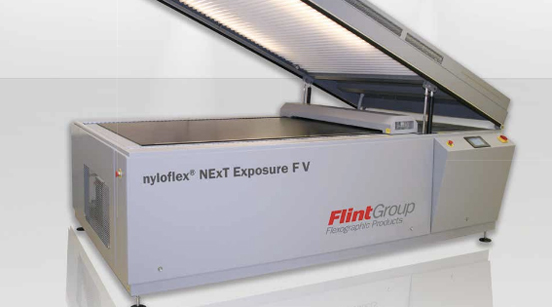 After a successful series of tests Chinese Flexo printer, Kunshan Fuhua Printing Co. Ltd decidedto install a nyloflex® NExT Exposure FV unit from Flint Group earlier this year.
The nyloflex® NExT exposure technology utilises a high intensity UV-A LED light source to conduct rapid crosslinking of the photopolymer surface. The high UV-A output results in a virtual 1:1 image reproduction from the digital file to the finished plate. In flexible packaging, printing plates exposed with this technology allow excellent ink transfer, particularly in solids due to the option to precisely reproduce surface screening structures. And in corrugated printing, fluting will considerably be reduced.
Located in Kunshan in the Southern Chinese province of Jiangsu, Kunshan Fuhua is a Chinese flexo company with a comprehensive offering for packaging printers. Profound technical knowledge, sophisticated equipment, and advanced management levels are the pillars of its success according to its management and with a team of more than 200 technicians they have been in business since 1995.
Flint Group is one of the largest suppliers to the printing and packaging industry worldwide, with 2013 revenues of € 2.2 billion (US$ 2.9 billion) and approximately 6,600 employees worldwide.