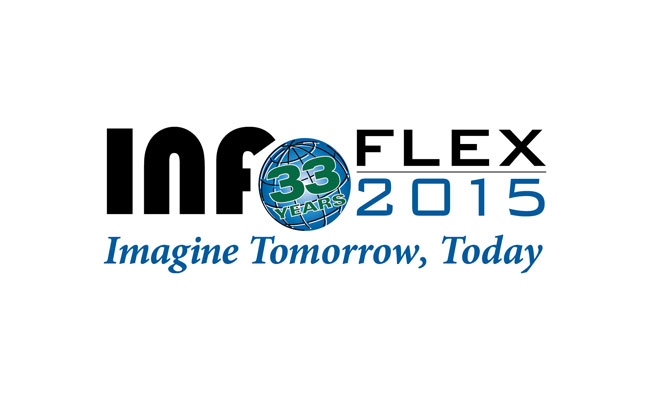 InfoFlex 2015, held May 4-5 at the Music City Center in Nashville TN, drew about 2,000 attendees, an attendance increase of 10 percent compared to previous events. The event also reported a record 280 booth spaces , which helped increase the show floor of the 2015 event by some 10 percent.
Exhibitor Gavin Rittmeyer, Martin Automatic, remarked, "INFO*FLEX is the premier event in North America for converting. Narrow web is here. Wide web is here. I even get to see paper plate customers. While I might like to be a flexo purist at heart, I appreciate the presence of the complementary technologies—particularly the digital presses and finishing systems. It's great to see it all on a single floor!"
In addition to the intensive networking, the interactive demonstrations of new technologies, and the product comparisons, the sprawling show floor featured:
32 new exhibiting companies for 2015
37 press manufacturers – traditional flexo, hybrid and digital
80% exhibitors that develop products/services for the wide web industry
75% exhibitors that cater to the narrow web and tag & label marketplace
40 companies address the latest in in-line converting
50 prepress companies featured a slew of new product developments
A Solutions Theater that drew standing room-only crowds
The Flexographic Technical Association's (FTA) annual forum, held in conjunction with InfoFlex from May 3-6 at the Omni Nashville, also drew record crowds. InfoFlex 2016 is set for March 7-8, 2016 at the Fort Worth Convention Center in Fort Worth, Tex.
About FTA: Flexographic Technical Association (FTA), chartered in 1958, is a professional society dedicated to bringing all members of the flexographic printing community—printers, suppliers, consumer product companies, institutions, prepress houses and others–together by providing opportunities for the free exchange of technical ideas and discussion of mutual concerns. It is a proponent of maintaining and advancing quality standards and includes 1,650 member sites that represent more than 1,400 companies and 60,000 individuals. Foundation of FTA, founded in 1974, is the educational arm of FTA and is dedicated to supporting and advancing the flexographic printing industry.

Source: flexography.org